When logging into the Symphony Help Centre, a user may experience a Forbidden - Invalid authenticity token error (Figure 1):

Figure 1 Error
This error occurs when the browser does not allow third-party cookies from symphony.com. Enable third-party cookies in Google Chrome by following these steps:
1. Open a Chrome browser and navigate to chrome://settings.
2. Search for Cookies and other site data.
3. In the results, scroll down and select Add next to Sites that can always use cookies (Figure 2):

Figure 2 Add
4. Enter [*.]symphony.com and enable the Including third-party cookies on this site checkbox (Figure 3):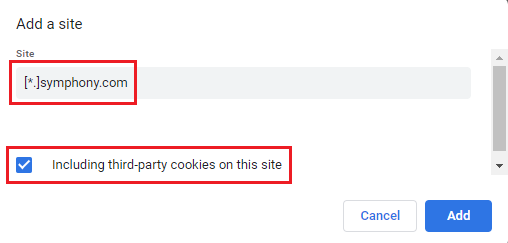 Figure 3 Add a site
5. Select Add (Figure 4):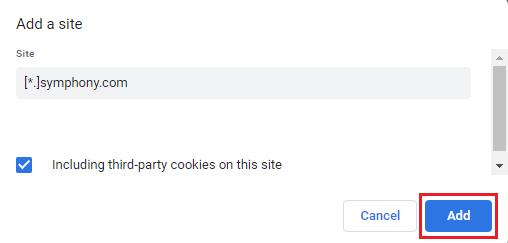 Figure 4 Add
6. Exit the Settings page, refresh the browser and confirm the Forbidden - Invalid authenticity token error is no longer displayed.
Note: You may need to clear your cache for these changes to to affect. Refer to the Knowledge Article found here on how to clear your cache.
If the error persists, please contact the Symphony Support team at support@symphony.com and inform them you are experiencing issues with an invalid authenticity token error.