The attachment limitation for each message in Google Chrome or the Symphony Desktop Application (SDA) is 25MB in total, for example if you upload 3 files of 9MB each in the same message, it will exceed the limit. 
If the pod has expression filters V3 enabled, the attachment limitation is 5MB in total for each message.
Note: The aggregate attachments size limit is tied to the number of regexes in use in EFv3, as well as to the number of cores per Symproxy. This can be further adjusted based on your company's specific DLP deployment.
Messages containing more than the permitted size limit of attachments will be rejected. As a workaround, the sender should send the attachments in multiple messages.
There is no limit to the number of attachments that are allowed in a chat room. If a user is unable to see some attachments that other users can, the chat room may not have Let new members browse history enabled.
To check if historical content can be viewed by new members, navigate to Chat Details and locate Permissions (Figure 1):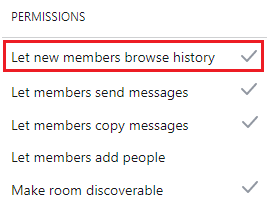 Figure 1 Permissions
If this option is not enabled, new members will not be able to view historic messages and attachments.
Note:
Once set, member permissions cannot be changed.
Messages have their own set of limitations. Refer to the Knowledge Article found
here
on message limitations.
If you require further assistance with attachment limitations, please contact the Symphony Support team at
support@symphony.com