Consolidate all your new messages into one live feed. Select the three dot menu at the top of your chat list and select Activity Feed (Figure 1):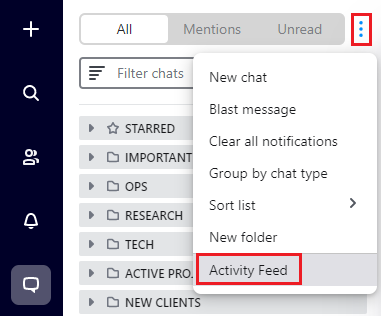 Figure 1 Activity Feed
Select filters to sort your messages by message Message type or Folder (Figure 2):

Figure 2 Activity Feed filters
Pop out your Activity Feed to maximize room on your screen and view it in its own window (Figure 3):

Figure 3 Pop out
Note: Select the X to pop your Activity feed back into your main window and select it again to close it altogether.
The Activity Feed can contain messages up to a maximum of 200 messages at any one time. For each new message over the 200 limit, the oldest message is removed to make room for newer messages.
Note: This feature was previously known as Inbox.