Perform an ad-hoc content export by following these steps:


1. In Symphony, select the Settings icon (Figure 1):

Figure 1 Settings
2. Select Admin Portal.
Note: This option is only available if you're a designated Administrator with Admin Portal access.
3. Select Begin Session.
Note: Session Objective and Comments are optional fields and are not required to access the Admin Portal.
4. Navigate to Company Settings in the Admin Portal and select Export Content (Figure 2):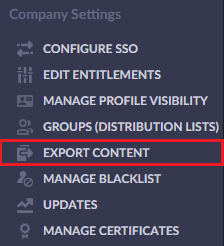 Figure 2 Export Content

5. Select Ad-Hoc Export (Figure 3):


Figure 3 Ad-Hoc Export


6. Enter the desired format and date range of the content you wish to export (Figure 4):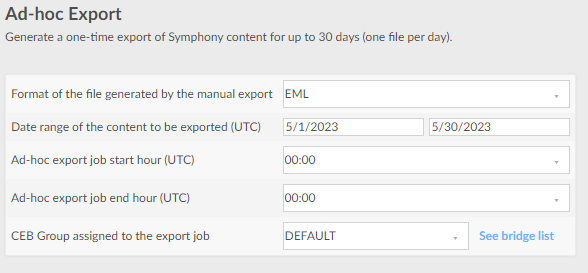 Figure 4 Format and date range


Notes:
In the example above, EML is the format and 5/1/2023 - 5/30/2023 is the date range of the export data, meaning data from 00:00 on 1 May 2023 to 23:59 on 30 May 2023 will be exported.
When the start date is different from the end date, the user can choose any start or end hour (from 12 am to 11 pm).
If the start date is the same as the end date, the end time must always be after the start time.
7. Select Start Ad-Hoc Export.


Note: An ad-hoc content export should not be performed at the same time as a recurring content export.

Refer to the Knowledge Article found 
here
 on content export and formats.