Audit trails are used to display a change history for any action taken within Symphony, including but not limited to chat history, specific users, chat rooms, content export, disclaimers and expression filters.
To view the audit trail for a specific user, select the user from the Browse Accounts page in the left nav and then select Audit Trail (Figure 1):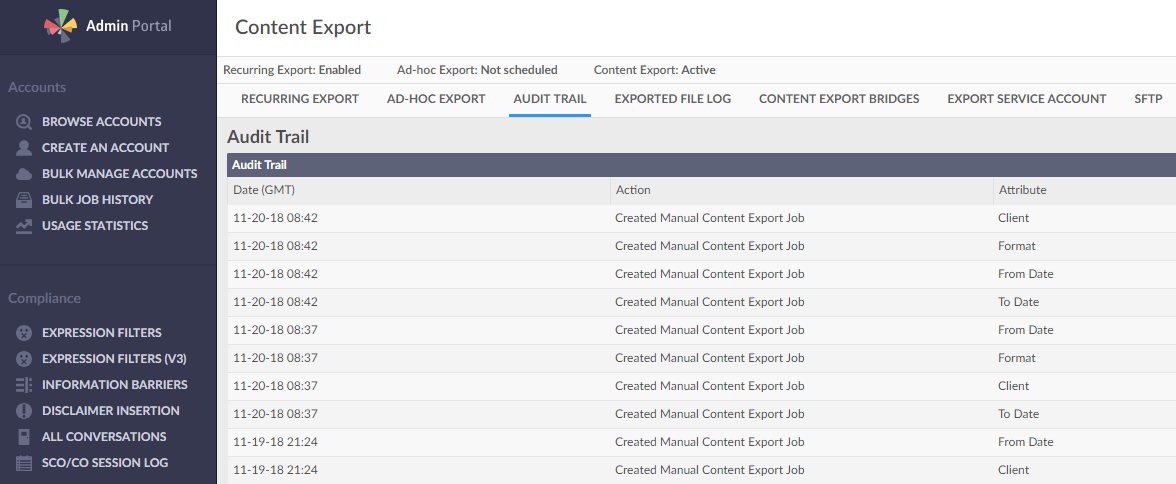 Figure 1 Audit Trail
The audit trail will display the date and timestamp of the event (in mm-dd-yy hh:mm format), action, attribute (if any), new value, old value and changed by information.
To make it easier to find relevant information and events in the audit trail, you can use the three filter options above the audit trail columns: Date, Action, and Action Performed By. Select a date range using the date picker and click Apply to see your filtered results.
View the audit trail for a specific chat room by going to Compliance and selecting All Rooms. Choose the room you want to view and click Audit Trail. To view the audit trail for content export, go to Company Settings and click Export Content. Select Audit Trail to view more details.
To learn how to access all available audit trails, please refer to the Admin Guide.