Super Compliance Officers and Compliance Officers can lock chat rooms to restrict their use when necessary. When a room is locked, it is immediately deactivated and room owners are prevented from reactivating it.
To lock a chat room, navigate to All Conversations in the Admin Portal under Compliance (Figure 1):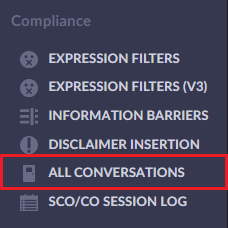 Figure 1 All Conversations
Select the room you want to lock and in the corresponding Conversation Detail window, select Lock (Figure 2):

Figure 2 Lock
Enter a Justification and select Lock (Figure 3):

Figure 3 Lock
You will receive a confirmation that the room is locked and the status will change to Locked.
Further information on locking chat rooms can be found here.