Super Compliance Officers and Compliance Officers can unlock chat rooms if it is decided they are required again. When a room is unlocked, it is immediately reactivated and members can chat in it straight away.
To unlock a chat room, navigate to All Conversations in the Admin Portal under Compliance (Figure 1):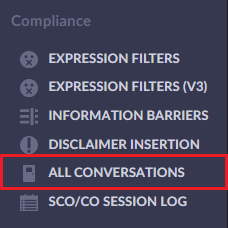 Figure 1 All Conversations
Select the room you want to unlock and in the corresponding Conversation Detail window, select Unlock (Figure 2):

Figure 2 Unlock
Enter a Justification and select Unlock (Figure 3):

Figure 3 Unlock
Confirmation that the room has been unlocked will be displayed (Figure 4):

Figure 4 Room unlocked
Further information on unlocking chat rooms can be found here.