Automatically remove inactive chats from your chat by using Auto hide.
To configure Auto hide, click the Settings cog wheel and select the General tab (Figure 1 and Figure 2):

Figure 1 Settings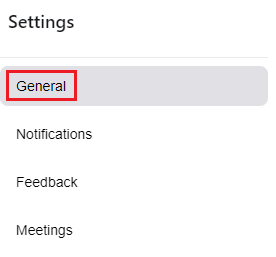 Figure 2 General
Scroll down to the Auto hide section and choose whether to enable or disable the functionality via the Hide chats that are read and inactive after checkbox (Figure 3):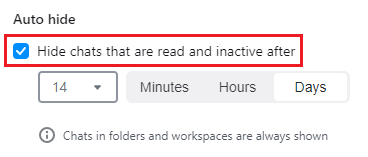 Figure 3 Auto hide
If enabled then choose the minutes, hours or days you would like chats to become inactive after (Figure 4):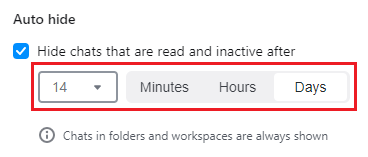 Figure 4 Auto hide options
Auto hide will not delete any chats, it will only remove them from your chat list. You can access an inactive chat again by disabling this feature, or by searching for the chat and clicking on the relevant result.