Set your presence status to let others know your availability. Select your profile picture and choose your presence status from the 4 available options (Figure 1):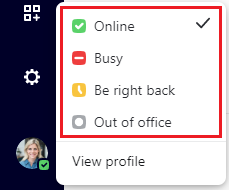 Figure 1 Presence status options
Online - you are online, working and available.
Busy - you are online, working but unavailable.
Be right back - you are working but away from your machine for a short while.
Out of office - you are offline and not working.
Your presence is dynamically updated based on your activity and will therefore switch to Away or Offline accordingly. When you are in a Symphony Meeting, your presence will automatically update to display In a meeting.

Note: Away, Offline and In a meeting cannot be set manually and are not in the list of options.