External communication allows users to connect and collaborate with Symphony users outside of your company.
Enable users for external communication by following these steps:
1. In Symphony, select the Settings icon (Figure 1):

Figure 1 Settings
2. Select Admin Portal.
Note: This option is only available if you're a designated Administrator with Admin Portal access.
3. Select Begin Session.
Note: Session Objective and Comments are optional fields and are not required to access the Admin Portal.
4. For individual users under Browse Accounts, or at the company-wide level in Edit Entitlements under Company Settings, enable Can chat in external IM/MIMs and Can chat in private external rooms (Figure 2):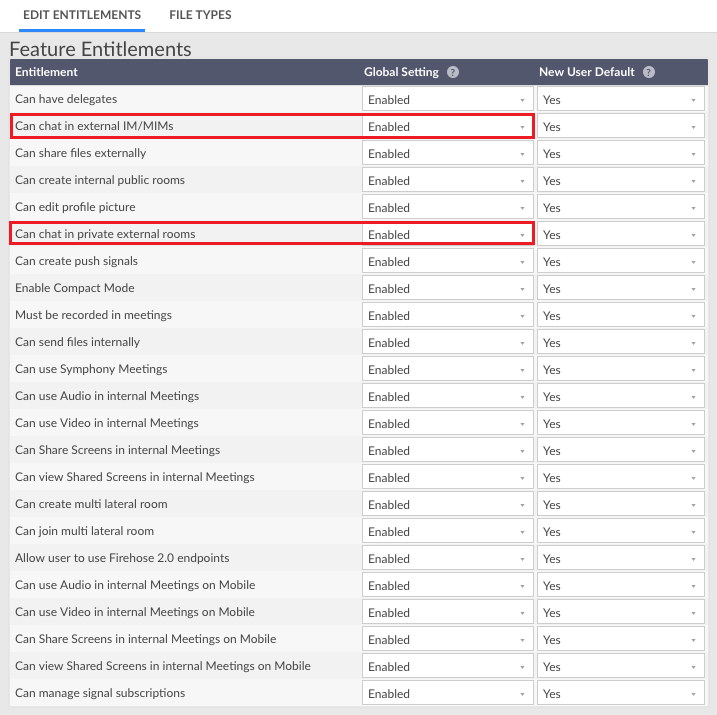 Figure 2 Edit Entitlements
Note: Set New User Default to yes to automatically allow new users to communicate externally.
If a user is enabled for either Can chat in external IM/MIMs or Can chat in private external rooms, they will be visible in searches by external users and will also be able to search for and communicate with external users.
Both participants must have external communications activated for external communications to work and users must first request a connection with an external user before they can communicate with them.
Note: Two other entitlements, Can send files externally and Require user warning for external communications, are available for controlling external communications, which will send a warning to users whenever they initiate external communications.
Further information on external communication can be found here.