Disclaimers are warning messages to be displayed when triggered by specific user actions, for example disclaimers can activate when users communicate with someone outside of their company.
If desired, Symphony admins can disable disclaimers for specific users by following these steps:
1. In Symphony, select the Settings icon (Figure 1):

Figure 1 Settings
2. Select Admin Portal.
Note: This option is only available if you're a designated Administrator with Admin Portal access.
3. Select Begin Session.
Note: Session Objective and Comments are optional fields and are not required to access the Admin Portal.
4. Navigate to Disclaimer Insertion under Compliance (Figure 2):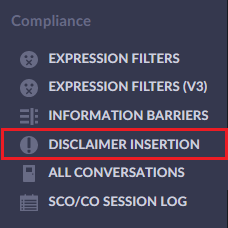 Figure 2 Disclaimer Insertion
5. Select Create Disclaimer (Figure 3):

Figure 3 Create Disclaimer
6. Create a new disclaimer.
Note: This disclaimer will be disabled shortly.
7. Navigate to Bulk Manage Accounts and download the template with the user information (Figure 4):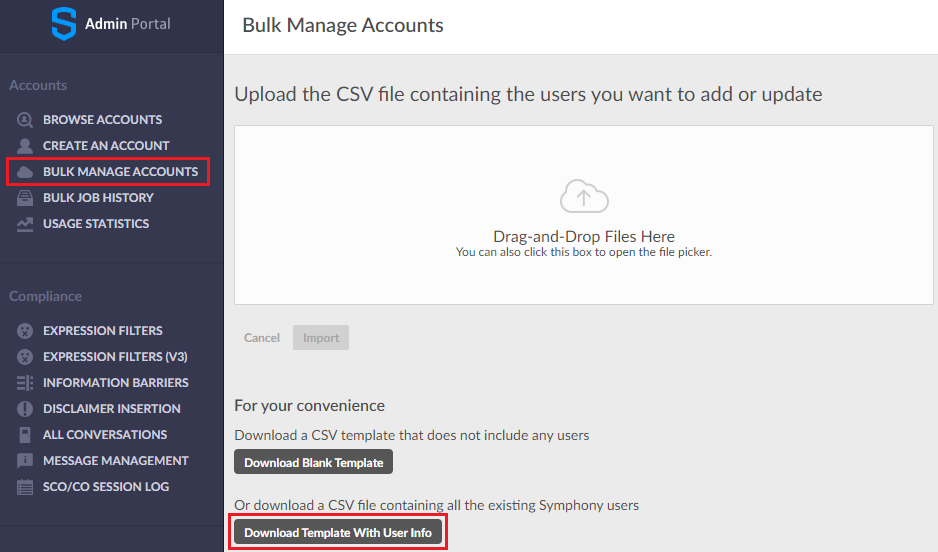 Figure 4 Bulk Manage Accounts
8. Locate the specific users you wish to have a disabled disclaimer in the downloaded .csv file and set the disclaimer column to the newly created disclaimer (Figure 5):

Figure 5 New Disclaimer
9. Save the .csv file. 
10. Drag and drop the new the .csv file into the Admin Portal (Figure 6):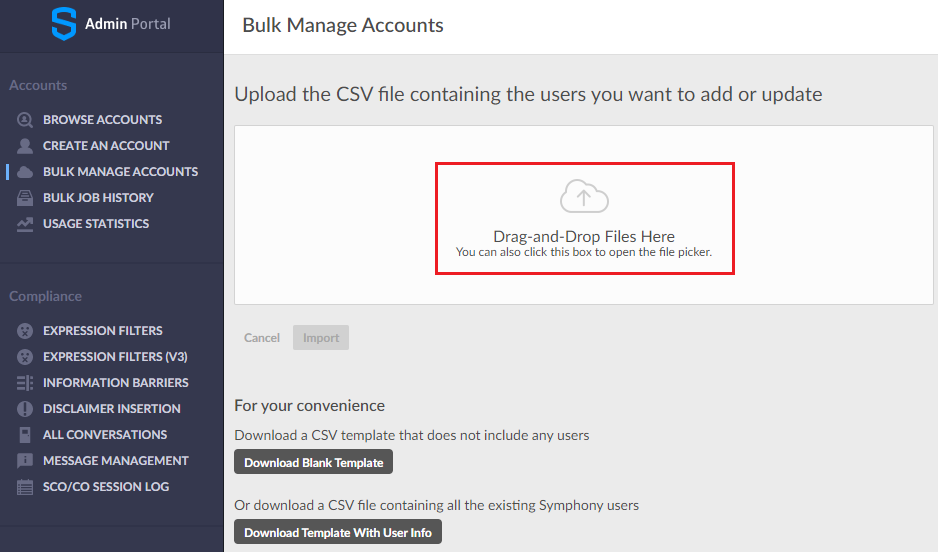 Figure 6 Drag-and-Drop Files Here
11. Navigate to Disclaimer Insertion under Compliance (Figure 7):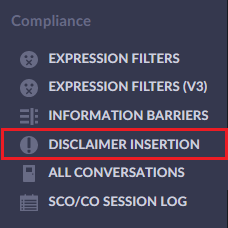 Figure 7 Disclaimer Insertion
12. Locate the new disclaimer and select Disable Disclaimer (Figure 8):

Figure 8 Disable Disclaimer
13. Confirm the specified users can now no longer see the disclaimer.
Note: If a user wishes to disable the disclaimer for more users at a later date, they will have to re-enable the disabled disclaimer, add them to it and then disable the disclaimer once more.
If you require further assistance with disclaimers, please contact the Symphony Support team at support@symphony.com