When a user is deactivated, their full Symphony chat history is automatically retained. By default, if a user is reactivated, they can see their old chat history. In some cases, Symphony admins may decide they do not want user to be able to see this.
Hide chat history from reactivated users by following these steps:
1. In Symphony, select the Settings icon (Figure 1):

Figure 1 Settings
2. Select Admin Portal.
Note: This option is only available if you're a designated Administrator with Admin Portal access.
3. Select Begin Session.
Note: Session Objective and Comments are optional fields and are not required to access the Admin Portal.

4. Upon entering the Admin Portal, the Browse Accounts menu will be displayed (Figure 2):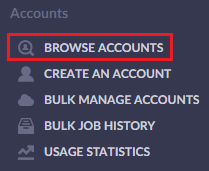 Figure 2 Browse Accounts
5. Search for the profile of the deactivated user.

6. Edit the username or email address to a dummy username or email address and save the profile.


Note: Do not reactivate this user account.


7. Create a new account for the deactivated user with their genuine credentials and save it.


8. Now that two separate accounts now exist, the chat history from the original user account will not be visible to the new, reactivated user.