Note: This entitlement can only be configured by users with administrator access.
When an Information Barrier (IB) is no longer required, it can be disabled from the Admin Portal and the restrictions it enforced will no longer apply.
Note: You cannot fully delete an IB, only disable it.
1. In Symphony, select the Settings icon (Figure 1):

Figure 1 Settings
2. Select Admin Portal.
Note: This option is only available if you're a designated Administrator with Admin Portal access.
3. Select Begin Session.
Note: Session Objective and Comments are optional fields and are not required to access the Admin Portal.
4. Select Information Barriers under Compliance (Figure 2):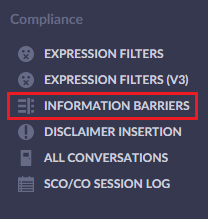 Figure 2 Information Barriers


5. Search for the IB to be disabled from the list provided and select it (Figure 3):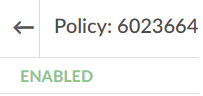 Figure 3 Enabled


Note: The IB should currently be displayed as enabled.


6. Select Disable to the right of the IB (Figure 4):



Figure 4 Disabled


7. The IB will now be disabled and its restrictions will no longer be enforced.