Symphony admins within your company can reset passwords on behalf of other users.
Reset a password via your Symphony admin by following these steps:
1. In Symphony, select the Settings icon (Figure 1):

Figure 1 Settings
2. Select Admin Portal.
Note: This option is only available if you're a designated Administrator with Admin Portal access.
3. Select Begin Session.
Note: Session Objective and Comments are optional fields and are not required to access the Admin Portal.
4. Select Browse Accounts (Figure 2):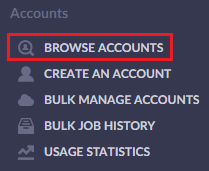 Figure 2 Browse Accounts
5. Search for the user and select Reset Password (Figure 3):

Figure 3 Reset Password
6. Select either Email password reset link or Assign new password (Figure 4):

Figure 4 Options
If Email password reset link is selected, an email will be sent to the user with a link to reset the password. If Assign new password is selected, 2 options are presented - either to manually create the new password for the user, or have Symphony generate the password.
Note: If Assign new password is selected, the new password must be sent to the user manually as they will not automatically receive it. 
7. After either method is selected, the user will be able to reset their password, or use the Symphony generated password to log in.