From the WeChat mini app home screen, a message periodically appears offering to notify the user when a contact sends them a message (Figure 1):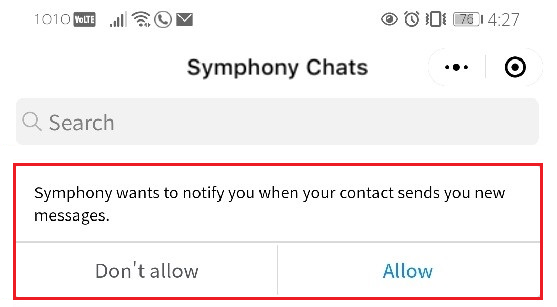 Figure 1 Allow
The first time the user selects Allow, a second message will be displayed presenting the option not to be asked again. Select the Don't Ask Again check box and select Allow once more. This will ensure the user receives notifications when a contact sends them a message.
If the user selects Don't allow, or if they select Cancel in the second message, new message notifications will not be received.
Note: The WeChat mini app must be closed and reopened for the new settings to take effect.
Note: If the WeChat mini app is open on your screen, notifications will not be sent. Notifications are only sent when the app is minimized or completely closed.
Full details on WeChat Connect can be found below:
If you require further assistance on WeChat Connect, please contact the Symphony Support team at support@symphony.com