HTML tags in Content Export were introduced in Symphony version 1.51. See below for a description of the changes from the 1.51 Release Notes:

Content Export:

The 1.51 Content Export Bridge (CEB) is able to identify messages created by applications on behalf of (OBO) end users in all 3 formats (Symphony XML, Actiance, and EML).

The schema for the Symphony XML format has been upgraded to v1.5.6 and includes a new element:​ postedByApplication which contains the applicationID of the app that generated the message.

As of 1.51, the desktop client will send messages in the new messageMLv2 format that the CEB then exports as html-based content in all 3 formats (Symphony XML, Actiance, and EML). The html format applies to all content entered by the sender including:
Links
Bulleted lists
@mentions
#tags, $tags
Bold text
Italicized text
Tables
Emojis
Code snippets
Note: Mobile clients are not yet able to send ​messageMLv2 formatted messages and thus the CEB will export messages from mobile using the legacy text-based + markdown format

CEBs older than 1.50 can export the content created by any client but can only export that content using the legacy text-based + markdown content

There is a forward compatibility issue with the 1.50.0 CEB when run against a pod running 1.51.0 or greater.
Render HTML data in the Vantage reviewer user interface by following these steps:
1. Log in as a Reviewer in Vantage
2. Click on Preferences in the top navigation bar
3. Ensure the Where possible, view original message formatting checkbox is selected (Figure 1):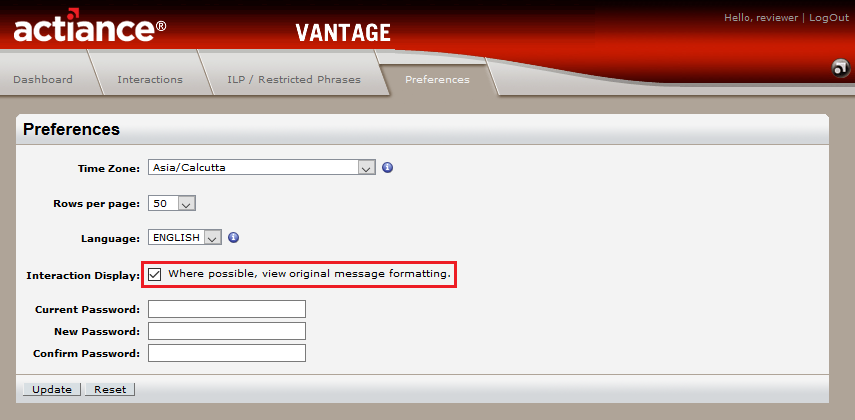 Figure 1 Preferences
4. Click Update to save the preference change (Figure 2):

Figure 2 Update
Please refer to this article for further information.