Clear your cache by following these steps:
Symphony Desktop Application (SDA)
1. Completely exit the Symphony application.
2. Navigate to the following location based on the relevant version of the SDA:
Version 3.x.x:

C:\Users\<your_username>\AppData\Roaming\Symphony or
C:\Users\<your_username>\AppData\Local\Symphony\Cache

Version 6.x.x, 9.x.x and above:

C:\Users\<your_username>\AppData\Local\Symphony\Cache
Note: <your_username> is the local user, for example John.Smith
Note: The folder location was amended in during version 3 hence the 2 different folder locations.Refer to the Knowledge Article found here on how to check the SDA version.
3. Select the Cache folder (Figure 1):

Figure 1 Cache folder
4. Delete all of the content contained within the folder.Note: If the AppData folder under your username isn't available, it maybe because the folder is hidden. If it is hidden, perform the 5 steps below and then repeat steps 1-4 above:
1. Navigate to the Start menu.
2. Select Control Panel.

3. Select Appearance and Personalization.
4. Select Folder Options.
5. Select Show Hidden Files and Folders.
Google Chrome
1. Navigate to Chrome Settings in the browser.
2. Select Settings.
3. Expand Advanced.
4. Select Privacy and Security.
5. Expand Clear Browsing Data.
6. Ensure the Browsing History, Cookies and other site data and Cached images and files checkboxes are selected (Figure 2):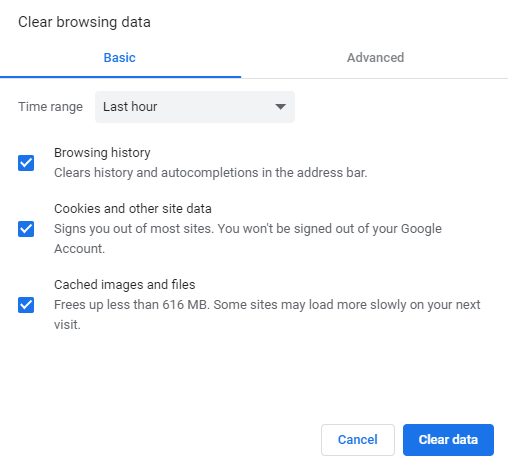 Figure 2 Checkboxes
7. Select Clear data (Figure 3):

Figure 3 Clear data
8. Close the Google Chrome settings and refresh the browser.