When you log in to Symphony after a software update, or having downloaded a new version, some users may not automatically be redirected to the correct URL address and may see a Symphony advertisement page instead.
This is most likely because they have been redirected to an incorect URL address contained within the Symphony Desktop Application (SDA) configuration file.
Note: Refer to the Knowledge Article found here for further information on the SDA configuration file.
To resolve this, open the Symphony configuration file and update the url flag to the correct URL (Figure 1):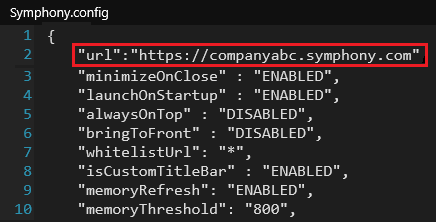 Figure 1 URL
Note: Where companyabc is the name of your pod.
After completing these steps, you will be redirected back to your usual login page the next time you attempt to open your SDA.