The Symphony Zoom integration allows users to start and join Zoom meetings in Symphony quickly and easily.
To use the Symphony Teams integration, you must install the Symphony Zoom integration from the Symphony Marketplace. To access the Symphony Marketplace, from Symphony, select Marketplace (Figure 1):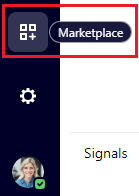 Figure 1 Marketplace
Note: Your internal IT team may have already automatically installed the Symphony Teams integration for you.
Search for Zoom and select the relevant result (Figure 2):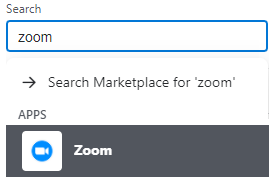 Figure 2 Search results
Note: The name of the integration is chosen by your internal IT team so it might be different from what is shown above.
Note: If the integration is not available, please contact your internal IT team.
Select Install (Figure 3):

Figure 3 Install
Once installed, the option to open and join a Symphony Zoom meeting should be visible in all of your chat rooms (Figure 4):
Figure 4 Zoom
Full details on the Symphony Zoom meeting integration can be found below:
Symphony Zoom Meeting User Guide
If you require further assistance on the Symphony Zoom meeting integration, please contact the Symphony Support team at support@symphony.com